Image Editor
The image editor is invoked by one of the following methods:
Double Clicking on a Image
Selecting the 'Edit Image' option on the 'Items Menu'
Clicking the 'Edit Image' toolbar button.
Right clicking on a image or text box in the preview pane and selecting 'Edit Image'
The image editor can also be opened by selecting one of the 'Crop Image' options. In that case, the image editor is opened in Crop mode. Note that the 'Crop Image' options are not available when using the Simplified Interface.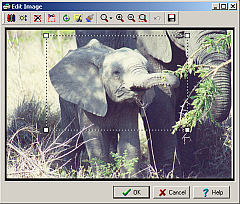 The toolbar gives access to the following functionality:
Adjust Image Colors
Opens the color dialog allowing the adjustment of image colors, hue, saturation, contrast, brightness etc
Auto adjust range
Maximizes the color range of the image
----
Clear Selection
----
Crop selection
Crops the image to the selected range.
----
Rotate and Flip
Opens the rotate dialog, allowing a

rbitrary

rotation and horizontal/vertical flipping.
Crop Image
Places the editor into Crop mode allowing precise adjustment of cropping.
Effects
Opens the effects dialog allowing special effects such as blur and sharpen.
----
Zoom
Zoom to window, or to a preset percentage of actual size.
Zoom In
Zoom Out
Zoom to selection
Zoom to show selected area.
----
Undo
Undo last change.
----
Save
Opens the Save image dialog.