Preview
The preview window gives a 'What you see is what you get' (WYSIWYG) view of how the page will appear. Once an image is added to the page (see Tutorial), it can be moved, resized and rotated (see Tutorial) to give the perfect layout.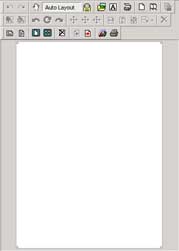 By default, the preview page shows one page at a time. However, this can be changed using the 'Page' menu options.
You can move between pages using the scroll bar, or the 'Previous Page', 'Next Page' toolbar buttons.