Benefits:
Professional Quality Prints
Uncomplicated and easy to use
Auto fit images to save paper
Designed for fast efficient use for the home-user/company
Wizards enable you to create your own posters, greeting cards, thumbnails, contact sheets and passport photos
Perfect for albums, collages, scrapbooks, flyers and posters.
Can print posters up to 20 x 20 A4 sheets
30 days free trial
Money back guarantee
Compatible with Windows 2000, 2003, XP, Vista, 7, 8 and 10
Only $39.50
Program written & designed by
Sean Cross
Source IT Software

Pics Print V3: The Printing Solution for Digital Cameras and Images
"This is just what I have been looking for!!!" (L Ambriz, CA USA)
"Pics Print could be the shareware product of the year." N Longmuir WPCUG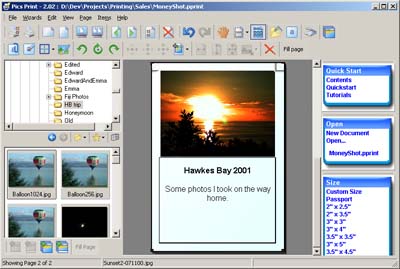 Why do I need printing software for my digital images?
Speed:
Pics Print allows you to batch print all of the images in a folder, camera or selection at once. Wizards allow you to quickly and easily perform common printing tasks, such as creating posters, album-sized prints, greeting cards and thumbnail sheets.
Control:
With Pics Print your print-out is displayed on-screen exactly as it will appear on paper. You have complete control over the size and layout of your images. Moving and resizing your images couldn't be easier, just click and drag. Or right click and choose from predefined layouts and sizes. You can also add comments and filenames to them.
Quality:
Pics Print creates images at the highest quality your printer can manage.


Source IT News